PRE-ROLL JOINT TUBES
Keep your joints intact while you're on the move
Everyone is familiar with this situation: you've rolled a perfect joint for a special occasion and then it gets snapped or crushed when you're on the move. With KYND's selection of pre-roll tubes, your joints will not only stay intact but will arrive safe and secure. Problem solved. Designed to seal in freshness and lengthen potency, our pre-roll tubes are made from medical-grade BPA free polypropylene ensuring your weed's shelf-life extends while you're on the move.
OUR WORK
PACKAGING DESIGN THAT SPEAKS FOR ITSELF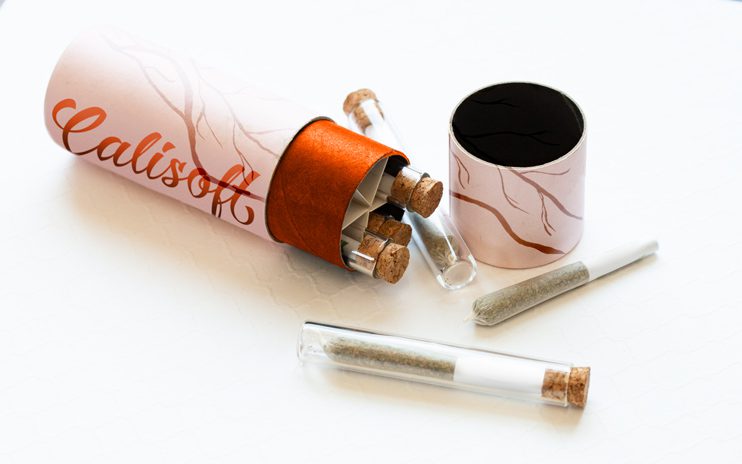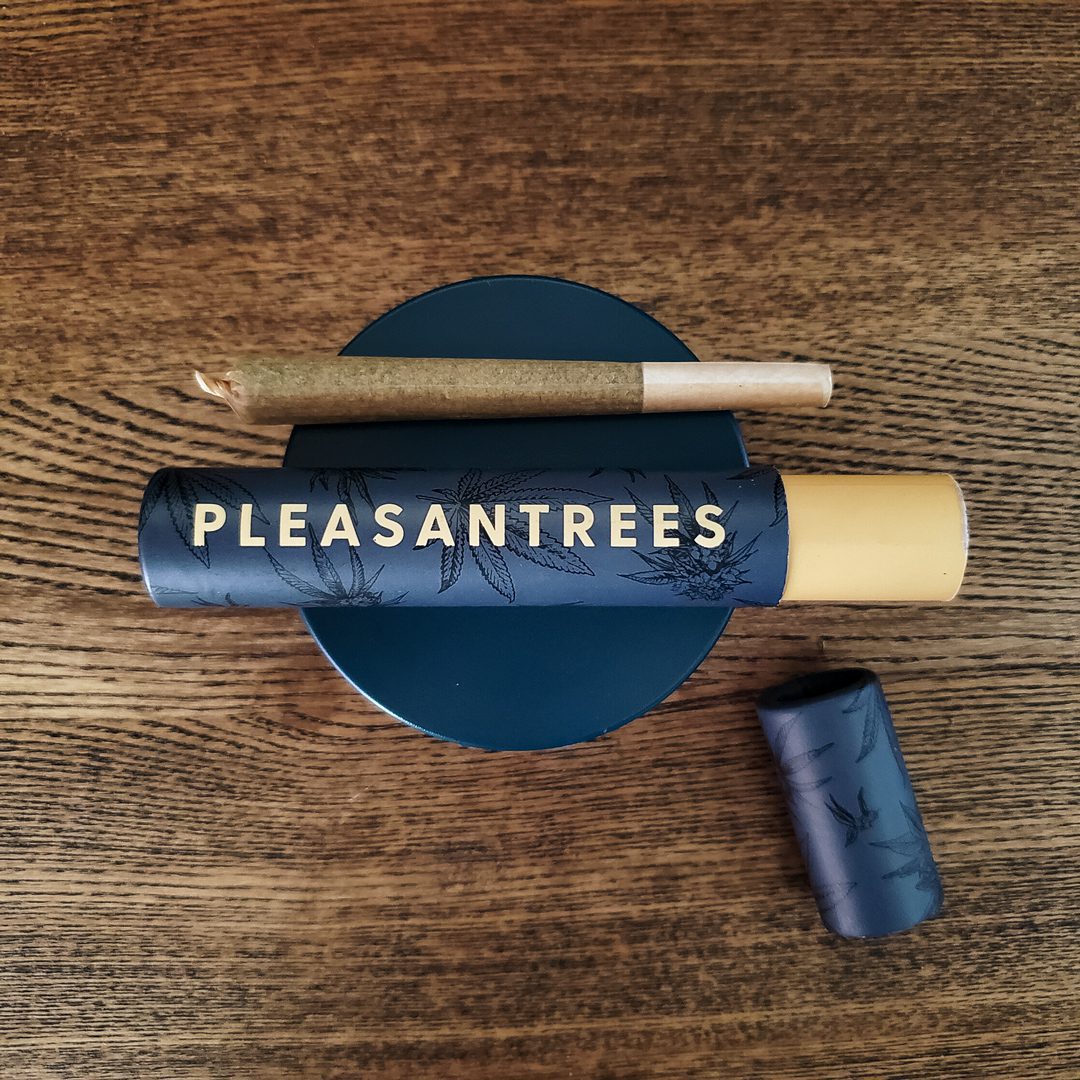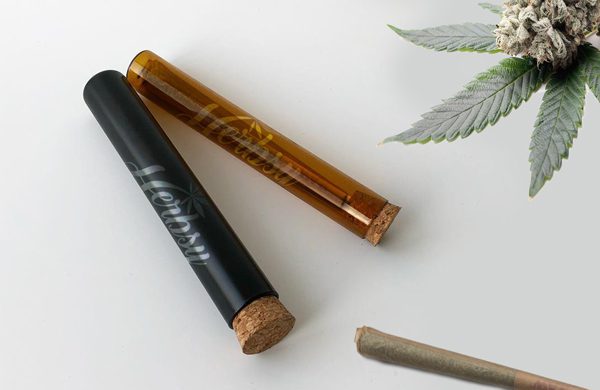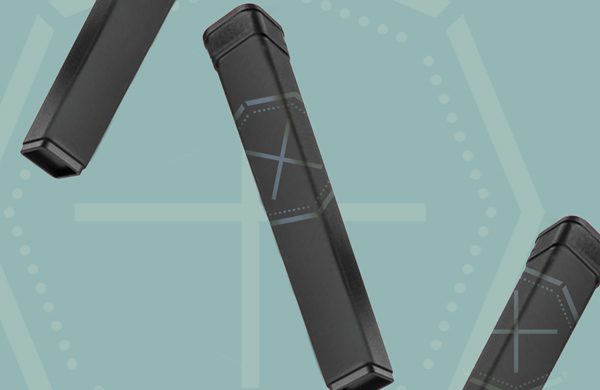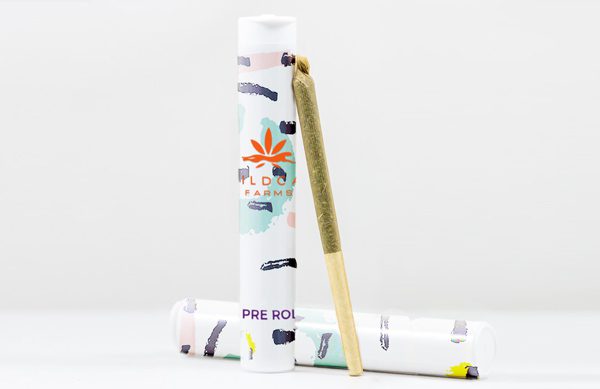 LEARN MORE
DESIGN A CUSTOM PACKAGING EXPERIENCE
Shelf Impact
Whether they're on display at a dispensary, trade show, or at home our branded pre-roll tubes become targeted advertisements for your engaging consumers.
Enhanced Barrier Properties
Airtight, moisture proof, and odor resistant, KYND's pre-roll tubes are BPA free, seal in freshness, and protect from damaging effects of UV rays.
Caps & Closures
Available in screw-top, hinged, or push n' turn style lids, pre-roll tubes keep your joints from getting crushed when you're on the move.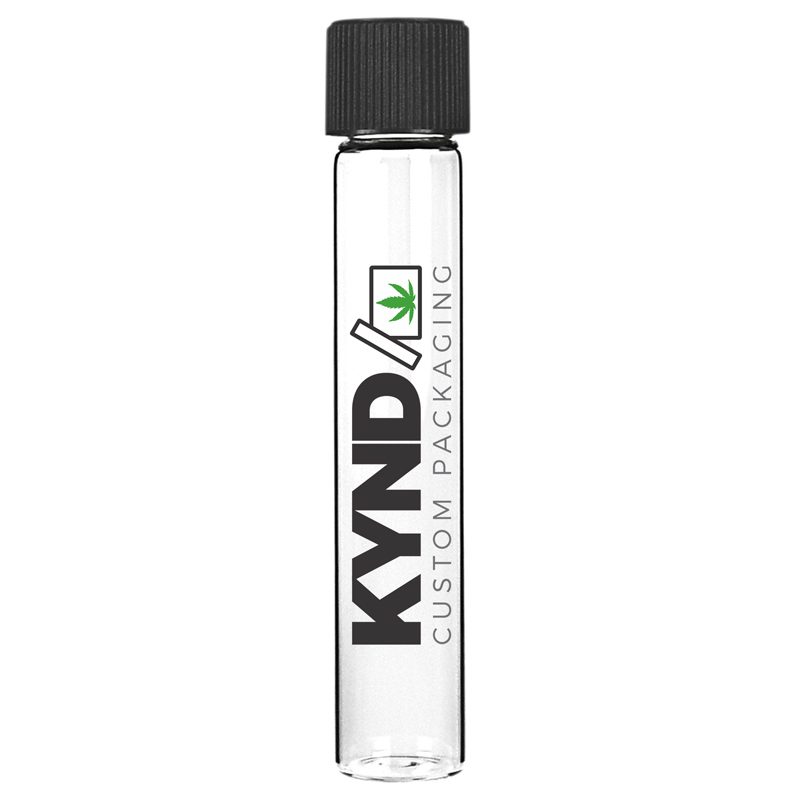 Capacity
Our pre-roll tubes range from 94mm to 120mm in size and can be fitted with a child-resistant or push n' turn closure to satisfy your cannabis packaging needs.
Storage
Make sure the quality of your premium marijuana stays fresh from the time it is packaged to them moment your customer purchases it.
Compliance
Consumer Product Safety Commission certified as child-resistant, our pre-roll tubes not only meet ATSM standards, but are senior friendly with improved child protection.
Or Keep Reading to Learn More About Pre Roll Tubes
Ensuring the Safety of Your Pre-Roll Packaging with High-QualityTubes
In terms of safety for your products, high-quality pre-roll tubes are an absolute necessity. These tubes, made from durable and sustainable materials, provide assurance that your 1-2 gram pre-rolled products are securely stored and uncompromising in terms of odor control and UV protection. Pre-roll tubes are designed to keep your delicate pre-rolls intact, preventing any form of damage that could occur from outside influences. Custom pre-roll tubes offer the added advantage of amplifying your brand visibility, and boosting your direct-to-consumer marketing efforts. You can choose materials suited to your brand's ideals, from biodegradable pre roll tubes options to joint tubes, or sleek glass pre-roll tubes, honoring both aesthetics and practicality.
Child Safety With Your Tubes
Safety, especially when it comes to products that are harmful to children, is paramount. Therefore, we ensure that our pre-roll tubes are child resistant. This feature is as necessary as it is reassuring to many consumers, emphasizing the responsibility your brand takes in guaranteeing child safety. So, when you order custom pre-roll tubes, rest assured – they will be both stylish and safe. In addition, you can fit these 1 gram-pre-rolls comfortably in your pocket without worry, as our doob tubes have been designed with ultimate convenience in mind.
High-quality pre-roll packaging tubes are constructed from an array of materials. These include sustainable materials and exquisite glass, enhancing the overall user experience. Glass gives the packaging a polished, high-end look and feel that is simply unmatched. It also upholds product quality and freshness far better than other materials, making glass pre-roll tubes an excellent choice for businesses.
We offer an extensive range of pre-roll tubes, be it a regular doob tube or custom pre-tailored joint tube to your brand, available for bulk purchase. By ordering in larger quantities, you save yourself both valuable time and the costs associated with frequent, smaller transactions. Moreover, these pre rolled joint tubes are professionally, ensuring they are created under stringent quality control standards. From biodegradable pre-roll packaging to glass pre roll tubes with labels, there's a vast array to choose from. Whether you're a local dispensary or a nationwide conglomerate, we have bulk options that are perfect for your needs.
At KYND Packaging, our high-quality joint tubes offer safety, durability, and convenience, all packed into one clear, compact unit. Our doob tubes are designed with meticulous attention to detail, keeping the customer's experience in mind. Furthermore, our range of child-resistant pre-roll tubes enhances product safety, making our products an investment worth making. Be it glass, sustainable, or any other type of material, you're sure to find the perfect tube for your brand. So upgrade to our premium, bulk pre-roll tubes today and experience the difference for yourself.
The Convenience and Durability of Pre Roll Tubes
The convenience and durability of pre-roll tubes are a breakthrough for those who frequently light up. For one, the pre-roll tubes allow for the safe preservation of pre-rolled cones, essentially maintaining their quality. Plus, the pre-rolled tubes make everything more manageable. It's worth mentioning that biodegradable pre-roll tubes also provide a more sustainable option than other roll tubes in the cannabis market. 
The specific design of the pre-roll tubes ensures that your pre-rolled blunts are safe and ready to use anytime you want. One call to your trusted supplier should help you find pre-rolled tubes to purchase in bulk. These offer bulk buyers the advantage of lower prices. Buying in bulk also cuts back on packaging waste, reiterating the commitment to sustainable packaging solutions. This is the future of pre-rolls.
Apart from convenience, these pre-roll tubes are known for their durability. It's not uncommon that we find ourselves losing the quality of our pre-roll cones due to substandard packaging. Poorly produced plastic joint tubes may break, leak or fail to seal properly, exposing your pre-roll joints to air and humidity. But this isn't the case with high-quality pre-roll tubes. They're made of tough materials which can stand the pressure without cracking or breaking. Glass, for instance, is a common manufacturing material for these tubes.
The use of glass in pre-roll tubes offers several advantages. Glass pre-roll tubes are not only more elegant and classier, but they also provide a barrier against humidity. This makes them a highly popular choice for many pre-roll joint users. In addition to that, these products are reusable – another factor fostering sustainability. The reusable nature of glass tubes cuts back on waste generation and promotes sustainability.
Beyond glass, you can also find biodegradable pre-roll tubes made from hemp. These are more suited for those who prefer an all-natural experience. Hemp-made tubes are as durable as their glass counterparts. Moreover, they are biodegradable, giving back to the environment in a way that other materials can't. They are also comparable to pre-roll paper tubes or pop-top tubes in the way they can be recycled.
In the case of pre-roll packaging, the stakes are high. When using low-quality plastic joint tubes, you lose some of the quality of your herbs, or worse, have them go to waste. As such, it goes without saying that you need to opt for premium pre-roll tubes. High-quality pre-rolled tubes in glass or hemp materials provide a safe, secure, and sustainable way to store your pre-rolls, protecting them from factors that could degrade their quality.
How custom Packaging Design can Uplift the Perception of your Brand
In today's globally competitive market, it's pivotal to ensure that your brand stands out and commands attention. That's where the power of custom packaging design comes into play. Packaging isn't just about containment; it's a potent way to enhance the perception of your brand. More than ever, brands are recognizing the role custom marijauna packaging plays in their businesses, whether they are dealing with glass pre-roll tubes, pre-roll cones, or joint tubes.
Pre-roll tubes, including joint tubes, have seen a rising surge in popularity. Much of this appeal is due to their durability and convenience, making them a favorite within the market. However, it's not enough to merely offer high-quality pre-roll tubes. The packaging must be compelling and align with your brand's values and story.
With custom pre-roll tube packaging, you can directly influence your customers' perception of your brand. Custom packaging means having the freedom to create a unique and personalized design that resonates with your target audience and embodies your brand. A seemingly simple tweak in the design, color, or even texture of your pre-roll tubes can have a substantial impact on how consumers view your product.
Let's talk about sustainability—an attribute that's increasingly sought after by conscious consumers. They won't just be drawn by the quality of your pre-rolls or your biodegradable pre-roll tubes; they'll also appreciate the sustainable packaging that encases these products. Such people are likely to view your brand positively and become loyal customers, thereby encouraging you to step up your sustainable practices.
Custom marijuana packaging also allows you to consider safety features, such as child-resistant packaging. As more brands enter the marketplace where children might encounter products, incorporating child-resistant packaging for your pre-roll tubes is not only a responsible measure but also instills trust in your customers.
Lastly, remember that having a user-friendly platform with intuitive navigation for your customers to easily 'search' and 'shop' can further enhance the positive perception of your brand. Cannabis Packaging, when used smartly, serves as a powerful tool that allows you to communicate directly with your audience, building a more robust brand reputation in the process. Let your custom pre-roll tube packaging tell your brand's unique tale and watch how this uplifts your brand's perception in the market.
Compare Tube Quality and Price - Select the Best Tubes for your Pre Roll Cones
When it comes to packaging your pre roll cones, the market offers an overwhelming array of doob tubes to choose from. It's vital to level your focus on price and quality, enabling you to select the best tubes for your pre-roll cones. With many variants available, plastic joint tubes may seem like a viable option. However, the perks of high-quality tubes can significantly outweigh the price difference and add more value to your brand.
Pre-roll tubes don't merely serve as packaging – they are a statement about your brand. A case of cheaply-made plastic joint tubes may, at first glance, appear to save you some bucks on the unit price, yet it may downplay the perception of your brand. High-quality pre-roll tubes, on the other hand, can uplift the perception of your brand while ensuring the safety of your products. Customers are becoming more discerning, so low quality won't get past their radar. They will invariably appreciate the enhanced, child-resistant packaging, which validates your brand's commitment to safety and quality.
While glass tubes exude a feel of luxury, they can easily increase your price per unit. A more cost-effective alternative is high-quality plastic tubes that are not only child-resistant but can look just as sophisticated if custom designed for your brand. Blunt tubes also feature among popular choices for their durability. Blunt tubes or glass pre-roll tubes, whatever your preference, you'll discover ample options at KYND Packaging. Take time to shop the market, comparing quality, price, and features befitting your brand.
The pre-roll industry is becoming more environmental-conscious. Among the green packaging solutions trending are biodegradable tubes. Produced from renewable hemp, these tubes echo sustainability while providing robust protection for pre-rolls. In the same league, paper pre-roll tubes are another eco-friendly option, providing a fresh contrast to regular plastic or glass tubes.
Are you seeking tubes in bulk? Many manufacturers offer attractive pricing for bulk orders. However, remember to check the quality before confirming. Whether it's blunts or pre-roll cones, always choose high-quality packaging. For a bulk order of pre-roll tubes or custom packaging, make a thorough search in the market. Never compromise quality for price, as it can cost your brand's reputation.
For any pre-roll brand, having an array of products in stock symbolizes its superiority. It's about providing consumers with a range of experiences. The quality and variety of your pre-roll tubes play an integral role in how your brand is perceived. Whether it's blunt, hemp, or child-resistant tubes you are seeking, there's a product to suit your needs.
KYND Packaging Offers Unique Experiences with Custom Packaging of Pre-Roll Tubes
Have you ever considered how the quality of your pre-roll tubes can influence the perception of your brand? KYND Packaging understands the power of a great first impression and offers you an opportunity to differentiate your store's products with their custom pre-roll tubes. These joint tubes are not just meant for storage; they're an extension of your brand, advertising your shop's commitment to quality and safety with each pre-roll joint sold.
KYND Packaging's pre-roll tubes are designed specifically for infused pre-rolls, joints, blunts, and every pre-roll imaginable.  They are child-resistant, ensuring that your product is kept safe and in compliance with regulations. The child-resistant design of these tubes doesn't just add safety, but value to your products as the risk of unintended access is greatly reduced. This trait comes to be appreciated, especially in cases where the consumers are parents.
One of the main advantages of these pre-roll tubes from KYND Packaging is that they accommodate a wide variety of sizes. Whether your pre-roll is a slender paper cone or a hefty 1-gram blunt, there's a doob tube designed to fit snugly and protect your product. The tubes not only provide protection but they help maintain the freshness of the product as well. The blend of durability and convenience these joint tubes offer is unmatched, making them the preferred storage solution for various grams of pre-rolls.
Undoubtedly, the defining feature of KYND Packaging's pre-roll tubes is the ability to customize them according to your brand's aesthetic. Whether it's choosing a specific color to complement your brand, or opting for a stunning glass pre-roll tube to elevate your product's presentation, the custom options are endless. These glass pre-roll tubes, though pricier than their plastic counterparts, add a touch of luxury that sets your products apart.
Furthermore, KYND Packaging is dedicated to providing packaging for pre-rolls that's not just high quality but also eco-friendly. Some tubes are made from biodegradable materials such as hemp, offering a more sustainable choice for environmentally conscious brands. It's worth highlighting that whether you choose glass or biodegradable pre-roll tubes, all tubes are designed to be child resistant.
Individual retailers, as well as those looking for bulk options, can benefit greatly from KYND Packaging's offerings. Buying products like pre-roll tubes in bulk not only provides cost benefits but ensures consistency across your entire product line as well. Moreover, custom marijuana packaging and labeling services offered by KYND Packaging create a cohesive brand essence that connects with customers on a deeper level.
So, if you're in the market for high-quality, durable, and highly custom pre-roll tubes, consider the competitive offerings from KYND Packaging. Make a smart choice for your business and your customers by investing in packaging that not only secures your products but also adds to its appeal.