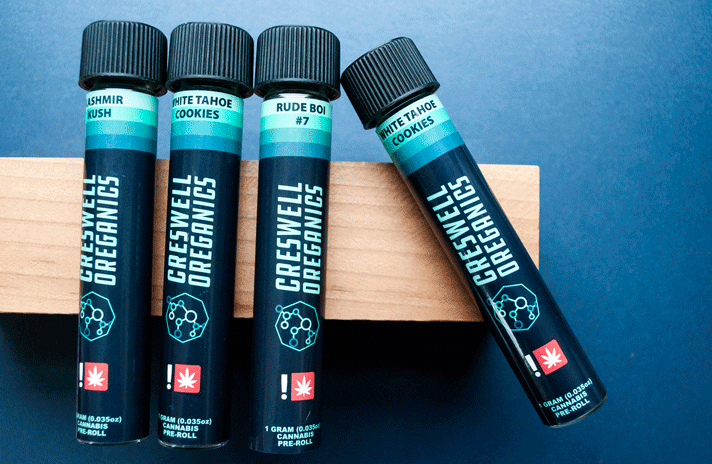 Cannabis Branding 101: How Great Marijuana Packaging Can Help Grow Your Cannabis Business
As with most businesses, those selling cannabis products want their company to grow and increase sales revenue. You will find that:
Branding is part of an overall sales and marketing strategy that can significantly increase your cannabis company's market share.

Choosing the right branded cannabis package design for your line of products can be a crucial element in the success of your business.

You should select a cannabis packaging supplier that provides everything you will need for your merchandise.
"
Although you might be tempted to cut corners on your packaging budget, don't. Consumers may decide that your product is high or low quality based solely on the appeal of your packaging.

"
With more states legalizing the use of cannabis, more businesses are starting to sell cannabis products. If you own or are starting a cannabis business, you'll want people to buy your merchandise instead of another company's, so you'll need to create your niche in the market. You'll need to offer high-quality products to gain repeat customers, but good branding is another important aspect of a successful cannabis business.
The idea of branding used to primarily focus on visual effects such as a logo, packaging, and graphics. Today, the broad definition of branding encompasses so much more, although the visual impact of your cannabis package design is still significant. Using branding is also a way to let your customers know your company's values, what they can expect from your company, and how your business is different from your competitors.
You may have a vision for your brand and know exactly what you want to get across to consumers, but if you don't, a cannabis branding and design consultant can listen to your ideas and use them to help you create a successful marketing strategy. Branding cannabis merchandise can be tricky because of the somewhat controversial nature of the products, so if you decide to seek assistance, it's a good idea to consult with someone who is knowledgeable about the overall cannabis industry and keeps up with cannabis branding trends.
Why Is Branding Important?
Strategic use of your logo, slogan or mission statement, and graphics in your branding dramatically impacts whether or not customers will buy your merchandise. You should tailor your branding and cannabis packaging design to reach and attract your intended clientele to increase sales.
For your branding to be successful, you'll need to think about your clientele and what they are looking for. Are you offering luxury products? Do you expect to have younger customers? Are your clients likely to be using your products because of the pain they are experiencing? You should adapt your marketing approach, including branding, for each group to what those consumers expect.
Purchasers of high-end cannabis products will want to be assured that the merchandise is indeed top shelf, so the packaging should be designed to reflect that. Choosing top-quality, elegant packaging is vital to the perception that your products are better than others. The information you include on the package should be geared toward luxury buyers as well.
Younger consumers want to feel good about themselves and what they are buying. Cannabis package design for these customers should convey a sense of simple authenticity. The use of reusable or recyclable materials in packaging is a plus for this target group. If recycled or natural materials are used to produce your packaging, that's even better.
Clients who use your merchandise for pain relief will want to feel comfortable with the quality of your products. You can convey that assurance by using suitable graphics and verbiage on your packaging design.
How Is Branding Related to Cannabis Package Design?
One of the goals of cannabis branding is to give consumers a great feeling about your products and increase sales. If consumers believe your products are high quality, they are more likely to purchase them. One way to control how your brand is perceived is exceptional packaging.
Although you might be tempted to cut corners on your packaging budget, don't. Consumers may decide that your product is high or low quality based solely on the appeal of your packaging. Mediocre packaging can cause customers to pass your product over and reach for another that has more appealing, better-quality packaging, so you'll want to use the highest quality that you can afford.
Does Packaging Really Matter?
Well-designed branded packaging can be used to advertise your products and increase potential sales, while unappealing packaging can reduce your sales. There are many aspects of packaging to consider when choosing how to present your cannabis products:
Your branded cannabis packaging design should be eye-catching and otherwise appealing to your customers. The package design, materials used, and information you choose to convey needs to resonate with the consumers you're most likely to sell to.

The packaging you use should protect your products. You'll want to extend the shelf life of your goods, so airtight packaging is a must. Bags should fasten easily and securely. If the packaging has a lid, you'll want to be sure that it attaches correctly. Boxes should protect your merchandise from being crushed.

Cannabis packaging should be compliant with state laws. Each state's laws are different and can change, so it's important to stay up to date with what you're required to do in each state. These laws can govern packaging safety features, such as requiring it to be child-resistant and tamper-resistant. They may also specify what information must be shown and can't be shown on labeling.

You'll want your merchandise displayed in sturdy, reliable packaging. Seeing what's in the package can be a huge plus for some items and is required by law in some instances. Boxes with bent corners or dented metal tins can imply that the entire item is damaged rather than just the container, so the supplier you choose should reasonably protect its products during shipping.

Your packaging can be used to inform consumers about your company and products. You can convey lots of information here. You'll want to specify strain, serving size, how much is included, and potency. The wording of your descriptions should promote confidence in the product's ability to provide the experience your customers hope to achieve. Product packaging is also a great place to advertise by sharing your company's website, email address, and phone number.

Consistency in packaging design can make it easy for customers to recognize your brand. Consistency can be achieved in different ways. You might choose one specific design for all your products but change the color of the packaging to reflect different strains. You may want all the packaging for different strains to be similar but use a slightly different font. The goal is for the packaging for all your merchandise to be similar enough visually that customers can spot your items at a glance.
What Should You Consider When Choosing a Cannabis Packaging Supplier?
When searching for the supplier you will use for your cannabis packaging needs, there are several things to think about:
Are the products of a satisfactory caliber? Defect-free, high-quality branded packaging can help grow your business, so choose a supplier with packaging that meets your set standards.

Does the supplier offer superb customer service? You're likely to be working with the company often to discuss your cannabis package branding and design and place orders. Courteous, competent, prompt customer service will be important to your peace of mind.

How quickly can orders be delivered to you? Once you have decided on your branding and cannabis packaging design, you'll place an initial order. You'll also be placing reorders as needed. Does the supplier's turn-around time from ordering until delivery meet your needs?

Does the company offer appropriate packaging for all the types of cannabis products you intend to sell? Your company may produce edibles, pre-rolls, flowers, and concentrates, all of which require different packaging types. You'll probably want to buy all your packaging from the same supplier to maintain consistency in quality and design, so you should research the kinds of packaging the company offers.

Does the supplier offer branding and design services? Suppose you're interested in getting help with creating your branding and package design. In that case, you'll probably want to accomplish all your packaging goals with one company, from the branding concept to the delivery of finished products.

Is the supplier likely to remain in business? You may want to research the reputation and stability of the packaging company. It would be very frustrating to have spent time and money developing branded packaging with a supplier only for the company to cease production. Your packaging supplier can be a valuable asset, so you'll probably prefer a long-term business relationship with the same company.
Why Is Good Cannabis Package Design Important?
Whether customers are viewing products in a dispensary or online, the first thing they will notice is the visual appeal of your merchandise. This visual impact includes the graphics and font used, the uniqueness of the packaging such as size and color, the type of materials used, and the quality of the packaging. If potential consumers find all these factors are pleasing with your packaging, they are much more likely to delve further into your product line. If your branded cannabis package design is memorable in some way, you are more likely to attract more business, especially repeat business. 
You have to package your goods somehow, so it makes sense to use branded packaging to your advantage in ways that can grow your business.